Welcome to
Sterling Creek Dental Care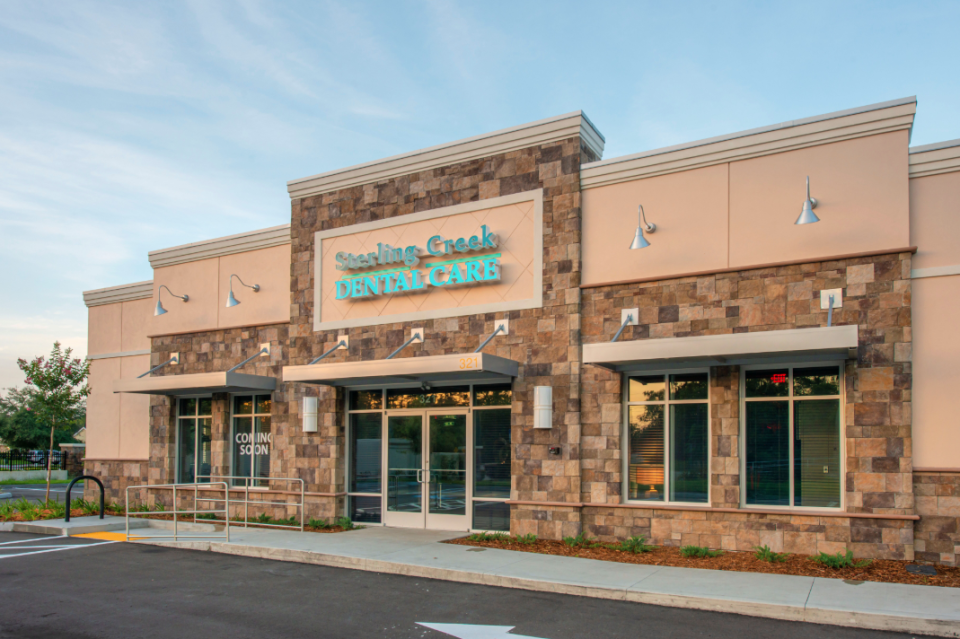 Meet the Doctor
Valerie Ligeon, DDS
Featured Services
Invisalign
Custom-made to straighten your teeth, Invisalign® clear aligners are nearly invisible and made of a proprietary, multi-layer SmartTrack material, which gently shifts your teeth into place over time.
More information
About Us
Hablamos Español

Falamos Português

Wij spreken hier ook Nederlands
We speak Spanish, Portuguese, and Dutch
Although everyone smiles in the same language, sometimes it can be difficult to communicate in other ways. So, we want you to know that, in addition to English, our dentists are fluent in other languages for your comfort and convenience. Dr. Monique Alves speaks both Portuguese and Spanish and Dr. Valerie Ligeon speaks Dutch.
We are Your Dental Team at Sterling Creek Dental Care
Welcome to Sterling Creek Dental Care of Oviedo, Florida! We are dedicated to providing the Oviedo area with the highest quality of dental care for your oral health needs. We understand that visiting the dentist can be stressful, so we have designed our facility and procedures with your comfort and ease in mind. Whatever your reason for visiting us, you can rest assured that everyone at Sterling Creek Dental Care, from our front office staff to our hygienists and dentists, will make sure that your dental treatment is as effective, affordable, and pleasant as possible.
Our Philosophy at Sterling Creek Dental Care
At Sterling Creek Dental Care, we firmly believe that your oral health directly affects your overall health and we are equipped with state-of-the-art equipment and the most up to date training to provide your dental care. If you have questions about the dental treatment that is right for you, our staff would be happy to provide you with the information you need. Call Sterling Creek Dental Care today at 407-901-7409 and learn more about how you can get the smile you've always wanted.
The Dental Services We Provide at Sterling Creek Dental Care
Professional Teeth Cleaning
We recommend that you visit us at Sterling Creek Dental Care at least twice a year for a regular check-up and professional teeth cleaning. A professional cleaning at Sterling Creek Dental Care will remove plaque and tartar that brushing and flossing at home just can't handle. Professionally eliminating this build-up of plaque and tartar helps to prevent bad breath, tooth decay, and periodontal disease. The best dental care we can provide is preventative care. Regular check-ups and professional teeth cleaning prevent small problems from becoming more complex and difficult to treat. Call Sterling Creek Dental Care in Oviedo, Florida today at 407-901-7409 to begin the dental care regimen that saves you time, money, and stress.
Teeth Whitening
Over time, your teeth's natural whiteness can fade or become discolored as the result of diet, personal habits, or simply getting older. However, the teeth whitening procedures we offer here at Sterling Creek Dental Care can restore the brilliance of your smile. The Zoom! teeth whitening method has a proven track record of dramatically improving the whiteness of your smile by up to six shades in a very short amount of time. We would love to help you achieve a smile you're proud to show off.
Corrective and Restorative Dental Services
You may be unhappy about the spacing or misalignment of your teeth, but you would like to know more about the options available. We encourage you to call us at 407-901-7409 and talk to our friendly, highly trained staff about our the latest innovative orthodontic methods like Invisalign clear aligners. Invisalign is a wonderful option for working adults because it produces similar results to traditional metal braces, but utilizes a series of custom-made, clear aligners that are virtually invisible. You are able to maintain your professional appearance and enjoy the dramatic improvement of properly aligned teeth without feeling self-conscious. Make Sterling Creek Dental Care your home for Invisalign in Oviedo!
Regardless of how meticulous you are about your oral health care, problems can always occur. Whether the cause is physical trauma or untreated decay, our team here at Sterling Creek Dental Care will work with you to find the dental treatment option that is perfectly suited to your individual oral health needs.
Innovative Dental Care Technology
We utilize the most advanced technology and state-of-the-art equipment in order to provide our patients with the highest quality of dental care. Our dental team uses the iTero Element scanner to produce high-resolution 3D images of your upper and lower dental structure. The iTero's virtual model of your teeth is created without the time and discomfort required by the use of traditional x-ray photos and the dreaded dental impression goo necessary for making a physical model. In only seconds, your dental team will be able to show you a model of your teeth's current condition as a well as a side-by-side simulation of your smile with its ideal spacing and alignment. The unprecedented resolution capable with the iTero Element allows the hygienists and dentist here at Sterling Creek Dental Care to provide you with a higher quality of oral health care by identifying dental problems such as early decay or microscopic fractures in a fraction of the time required by old-fashioned methods. This means that your dentist can give you a diagnosis with greater accuracy while also decreasing the amount of time for your examination.
Make Your Appointment Today!
Start on your way to a better smile by calling 407-901-7409 today for an appointment. We're also happy to answer any questions you may have – our team at Sterling Creek Dental Care in Oviedo, Florida is here to make your dental experience pleasant, affordable, and beautifully effective.